A ray of light (experimental)
So, getting nearer to one of the original thoughts - I think - with blogging and me: expressing some creativity in web form:
Trying out Blogger's new Photo and text option (yay!)...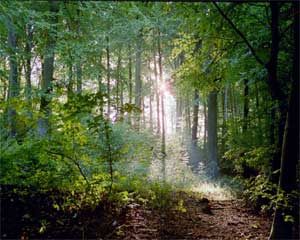 I know, I know - there's not much creativity linked to the picture yet. Things take time, as you'll know. If you don't, take heed:
T.T.T
Put up in a place
where it's easy to see
the cryptic admonishment
T.T.T.
When you feel how depressingly
slowly you climb,
it's well to remember that
Things Take Time.
Grook by Danish Post and Scientist Piet Hein (1906-1996)
If you'd want for a story related to the forest image - try this for size:
A Springtime Sensation