Presentation planning
Just as this has been discussed lately – here's the current status of my next major presentation, a two-hour training presentation week after next: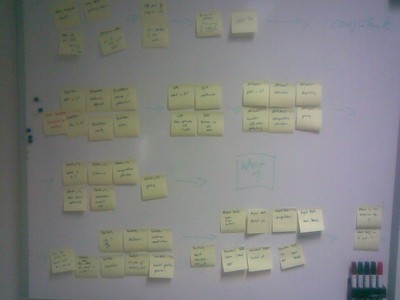 (lousy quality again, I know – blame Nokia ;)
Please note: No software involved yet – I'll be refining this a little more before I fire up PowerPoint.
All references in the following are to presentation styles presented in this summary article.
Once I do, the slides – I hope – will be made in a mix of -


assertion-evidence slides (for sure)


Presentaion Zen slides (should be able to pull these off at least for section headings)


a little Lessig 2.0 to start off with when I present myself (a requirement of the format and the style is chosen as I'm having mid afternoon, some time after lunch, with a bunch of listeners with jetlag – in other words, some wake-up effect is in order)


and, maybe if I can make it work and it flows well with the rest, a comic character in style with the "Brain Rules" frog.
Erm. When looking at it, it seems like some kind of shopping list… I might stick to it or decide that it's over the top as I get near D-Day.